Personal development is both a subject and a school ethos. It is reflected in our school values. We want to each child to leave the school feeling confident, unique and proud.
Our aim is to teach children how to navigate through life safely, happily and healthily. Children are growing up in a world that is constantly changing and it is the duty of all the staff at school in partnership with the parents teach the children transferable life skills. We teach children about the world around them, relationships, emotions, reproduction and health, as well as transferable skills to help with life. We consistently promote the British values and our school values.
Our Personal Development Curriculum supports children in dealing with real life issues. We promote cultural capital providing learners with "the knowledge and cultural capital they need to succeed in life" and ensure that the learning process enables pupils to understand, care about, and act on core values.
In accordance with The Department for Education, we aim to actively promote British values in our school to ensure young people leave school prepared for life in modern Britain. Pupils are encouraged to regard people of all faiths, races and cultures with respect and tolerance and understand that while different people may hold different views about what is 'right' and 'wrong', all people living in England are subject to its law.

The Key British Values are:
democracy
rule of law
individual liberty
mutual respect
tolerance of those of different faiths and beliefs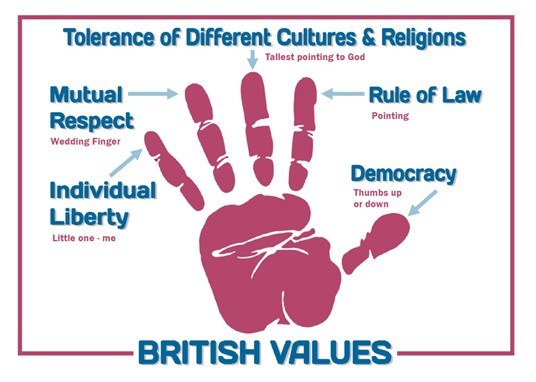 We help children to remember the British Values through the thumb and finger model
Thumb – Democracy – up or down to give opinion.
Index finger – Rule of Law - pointing
Middle finger – Tolerance of different faiths and beliefs – tallest finger pointing to God.
Ring Finger – Mutual respect – wedding ring – respect for other people
Little finger – Individual Liberty – sticks out on its own.
We actively promote British values through
Focusing on and showing how the school's work is effective in securing these values
Challenging pupils, staff, visitors or parents who express opinions contrary to British values
Democracy – what do we do?
Class voting for the election of school parliament at the start of the year;
Provide pupils with a broad general knowledge of, and promote respect for, public institutions and services;
Teach pupils how they can influence decision-making through the democratic process;
Taught through assemblies and our school curriculum;
Teach a dedicated topic on the civil rights movement (protests and politics);
Encourage pupils to become involved in decision-making processes and ensure they are listened to in school;
Help pupils to express their views;
Model how perceived injustice can be peacefully challenged.
Rule of law – what do we do?
Ensure school rules and expectations are clear and fair;
Class rules and celebration of adhering to these rules;
Help pupils to distinguish right from wrong;
Help pupils to respect the law and the basis on which it is made;
Help pupils to understand that living under the rule of law protects individuals;
Explore within our Personal Development Lessons laws and what to do if peer pressure is trying to persuade children to break these;
Refer to the Equality Act 2010 as part of our No Outsiders Scheme;
Annual visit from police to take about County Lines with Year 6.
Individual liberty – what do we do?
Support pupils to develop their self-knowledge, self-esteem, self-confidence;
Encourage pupils to take responsibility for their behaviour, as well as knowing their rights;
Model freedom of speech through pupil participation, while ensuring protection of vulnerable pupils and promoting critical analysis of evidence
Challenge stereotypes;
Implement a strong anti-bullying culture;
E-Safety units of work are taught throughout school and parents and staff receive training on these.
Mutual Respect and tolerance of different cultures and religions– what do we do?
Use the No Outsiders scheme within our Personal Development lessons and through assemblies to explore the protected characteristics of the 2010 Equality Act to promote respect for individual differences and to actively challenge stereotypes;
Use No Outsiders assemblies to explore critical news events (e.g. terrorist attacks, Black Lives Matter etc);
Explore positive role models (where possible) through our topics who reflect the protected characteristics of the 2010 Equality Act;
Challenge prejudicial or discriminatory behaviour;
Organise visits to places of worship;
We celebrate Diwali, Eid and Christmas;
Our RE scheme ensures that our children have a good understanding of a range of religious beliefs and customs;
Help pupils to acquire an understanding of, and respect for, their own and other cultures and ways of life;
Use of oracy hand gesture to disagree in a respectful way with the answers of others whilst in class.
Coming in September 2023
Our vision is for all children at Waterside is to enjoy their experiences with us and become life long learners. Our values underpin all that we aim to do in our school to ensure that everyone has the support and opportunities to thrive as a citizen throughout their life. Our Citizenship Award has been created to enable all of our children to understand these values. We endeavour to work alongside our families to encourage all children to develop and embed these citizenship qualities in all that they do.
The award aims to help children develop skills in different strands, including Independence, Community, Community and Leadership. Each child will have an Award Booklet which contains suggestions for activities and space for each one to be signed off.
To earn their award each year, children need to complete an activity in each of the strands. They will receive a badge that they can wear for the rest of their time at Waterside Primary School, and if they earn the award each year they can collect all different colours.
We hope that lots of our children will be inspired to have a go at earning their Citizenship Award.
Every child and family who joins our setting will have their own knowledge and experiences that will link to their culture and wider family. This might include: languages, beliefs, traditions, cultural and family heritage, interests, travel and work. Research shows that when children and families' cultures are valued, both the child's experience of learning and progress can benefit (Husain et al., 2018, p. 4 and Gazzard, E. 2018 in Chalmers, H. and Crisfield, E. 2019).
Cultural capital is the accumulation of knowledge, behaviours, and skills that a child can draw upon and which demonstrates their cultural awareness, knowledge and competence; it is one of the key ingredients a pupil will draw upon to be successful in society, their career and the world of work. Cultural capital gives power. It helps children achieve goals, become successful, and rise up the social ladder without necessarily having wealth or financial capital. Cultural capital is having assets that give children the desire to aspire and achieve social mobility whatever their starting point.
At Waterside Primary School, our curriculum is designed to instil high aspirations in all of our children and to encourage them to become resilient, life-long learners who embrace challenges and continue to grow and develop their cultural capital. Our children will be inspired to follow whichever path they choose whilst being well-rounded, conscientious global citizens. Our values, understanding of SMSC and British Values enrich and underpin our curriculum to ensure that our children are prepared and equipped to succeed in their futures in an ever changing world.
The development of spiritual, moral, social and cultural education is a key aspect of our school curriculum and is the golden thread of our school ethos and daily life. Through our long and medium term planning, together with enriching experiences, children have the opportunity to explore values and beliefs, including religious beliefs, and the way in which they impact on people's lives.
At Waterside Primary, we strive to provide an inclusive environment, ensuring children are successful learners who are equipped with the secure foundations they need to lead a successful life in modern day Britain. We aim to inspire children to have high aspirations air d to make positive contributions to their school community and wider community too - aspiring to be more, not have more. SMSC underpins every subject , allowing for their social, moral, spiritual and cultural development as a consequence.
Specific lessons, assemblies, charity events, themed weeks and experiences allow for all-inclusive opportunities, which allow pupils to reflect on and understand areas of their lives that have value and worth.
Coming Soon
At Waterside one of our drivers for the curriculum is exploring possibilities and raising aspirations, thus improving social mobility. By aspirations we mean the things which children and young people hope to achieve in the future. In order to realise their aspirations for further education; apprenticeships; university and their vast range of careers opportunities, pupils usually require good educational outcomes. Raising aspirations is therefore often believed to encourage improved attainment in primary school, when children begin to consider their life-goals and have a focus and sense of purpose for their hard work and effort (even if this changes along the way).